eclectic handmade jewelry combining nature & nurture
Unique, eye-catching handmade jewelry with a wandering eye on trends. Whether huge and statement-making or subtle and dainty, each piece is designed to become one of your new go-to favorites. Custom sizing and completely custom designs are available to further perfect your jewelry.
Favorite materials: semiprecious gemstones, rough & raw minerals, gunmetal & antique bronze toned chain, unusual and/or hard to find natural materials
Note: sea urchin spines used in jewelry and crafts are largely (if not exclusively) a byproduct of the fishing industry and in my opinion, are ethically sourced – I would much prefer to use these parts and other food industry byproducts (bone, etc) than have them be thrown away or wasted!
---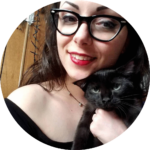 Kirstin Avants-Baker
Owner, Maker
I've been making jewelry in some form since before I can remember, and have wanted to own a shop almost as long. I gave it my best elementary school shot at one point and sold "handmade stationery" (paper with a few stamps or stickers stuck on) to my parents, which they begrudgingly paid actual money for. In high school, I peddled handmade belts to whoever would stop and listen, and actually managed to sell a few.
Fast forward to 2008, I officially opened an Etsy shop, and to say the least, I've learned a lot since then…
In 2012 I relaunched my shop on Etsy and registered my business with the state of Texas, with much more planning this time, and continue to grow from there.
Things have changed quite a bit in my life and business, and I always strive to improve in any way possible. It's been a slow but steady process, and launching this website is the latest big step!
I appreciate all of your help in creating my dream business and life, more than you can ever know.
---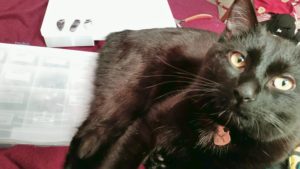 Shadow
Assistant, Chain Destroyer
I like to play with carefully lined up beads and chain and sleep on tools (which is very comfortable). I also can never resist the opportunity to destroy a body chain or anything else hanging or dangling within my reach.
Other interests: making photos difficult, being the greatest
pictured: tools (under cat)
---